This is a pretty decent week to live in Austin. I will give the usual daily reminder of these shows but for now here is the big "plan for the rest of your week" breakdown of all the going on's.
Tuesday- Emo's will pretty much be the place to be on Tuesday night.
Sparta - Outdoor Stage

This will be my first opportunity to see the guys in proper form. Lollapalooza with a hangover at 1:30 in the afternoon is not the proper form. This will also be a chance to hear new material on the before the album is released Oct 24th. Note: Special Edition of the album will include the short film Eme Nakia.
SOUNDteam - Outdoor Stage
If you read this blog you may have heard about this band once or twice. I took kind of a break from these guys for a while because I wasn't listening to much else. And that's not fair. So I am very ready to see them again
Silversun Pickups - Indoor Stage

Blog darling's and for a good reason. If you have not been fortunate to hear their music please click on the link now. I love it when you listen to a song once and that's all it takes to grow on you.
Viva Voce - Indoor Stage

My favorite duo since Jack and Meg, Sorry Deadboy and The Kills. They have a song called "We Do Not Fuck Around", this fits them perfectly. I can't wait to see how it come across on stage.


Thursday-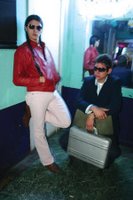 Ghostland Observatory - Emo's (Outdoor Stage)

Probably the most energetic live show I have seen in a long while, think Mars Volta. This will probably be one of those shows you tell your friend you were at years from now.If not at least you will get to dance your ass off, possibly on stage.... 12 dollars, get on it.


Saturday-


Yeah Yeah Yeahs - Stubbs BBQ

Karen O and Co, Stubbs, great weather, cmon. Do I really need to sell you on this? But it has been a while since they have been around so it may be a while before they come back. This will be my first chance to see them perform the new stuff. Last time Karen O was insane and I loved every minute of it...
That should keep me busy for the week, check back......