KNUCKLE RUMBLER AND ULTRA8201 PRESENT:CRUMPLE BLUNDER 4 | The Knuckle Rumbler 3rd Anniversary Party
WITH SPECIAL GUEST PENGUIN PRISON! PLUS FRESH MILLIONS, RICKEY JEAN FRANCOIS, RICHARD.GEAR, BOBBY WEST, AND IZ-REAL! HOLY CRAP! LIVE ART BY MICCA TOONE
Tickets [HERE]
No tickets will be sold at the door
BYOB + Complimentary Drinks Available
21+
SLACKER MAGAZINE NYE LAUNCH PARTY
Empire Automotive
Featuring performances by:
WHITE DENIM
ROYAL BANGS
OH LOOK OUT
MEGAFAUNA
SPYHNX
DJ CZECH ONE
Doors open 7:30pm
First 50 peeps in the door get FREE JanSport Backpack
[TICKETS]
Complimentary dinner provided by Jimmy Johns
Complimentary drinks provided by Corona Light & UV Vodka
Complimentary 2012 JanSport Survival Backpacks
NYE Light Show!
NEW YEARS EVE AT CHEER UP CHARLIE'S
3 STAGES. 8 PM - 2 AM | $5
FREE LIBATIONS, TREATS, GIVEAWAYS.
A LEGIT COUNTDOWN!!!!
ROAMING PHOTOBOOTH sponsored by BIRDS BARBERSHOP BY BRANDON SCOTT, THE BAR BAT
SET TIMES
INSIDE Stage-
9:40-10:10 - The Zoltars
11:20-11:50 - Sleep Good
NORTH Stage-
840-910 - Gold Spine
10:50-11:20 - TV Torso
12-12:45 - Ringo Deathstarr
12:45-2:00 - MouthFeel DJ Set
WEST Stage-
8:10-8:40 -Young Girls
9:10-9:40 - Marmalakes
10:10-10:50 - The Sour Notes
SPONSORED BY: BIRDS BARBERSHOP, THE AUSTINIST, AUSTIN TOWN HALL YELP.COM, AUSTIN CHRONICLE, EYE IN THE SKY COLLECTIVE, THE DELI, STRUT TIFF'S TREATS
PELIGROSA NYE AT VOLSTEAD con EL G (ZZK RECORDS)
DRESS TO IMPRESS! Bringing the holiday cheer in classic Peligrosa fashion. The Cumbia, the Salsa, the Merengue, the Baile Funk, 3ball, Plena, Reggaeton, dembow and all that Latin flavor you've come to love over the years (or decades).
Peligrosa and EL G join forces this New Years Eve to close out 2011 and bring you into 2012 in proper GIGANTIC fashion (i.e., Enter the Enjoyatorium). We're taking over Volstead Lounge and inviting you to join our exciting yet affordable alternative to...staying in. That's right ladies and gentlemen, for 10 bucks you can 'get up to get on down' and the midnight toast is on the house.
El G is the DJ name of Grant C. Dull, Buenos Aires, Argentina expat who saw an amazing musical scene and decided to share it global. An El G DJ set is essentially a mini-ZZK Records showcase of sound. El G, musicologist, online magazine editor, visual artist, curator, DJ and badass, co-founded ZZK Records and Zizek Club with his Argentine partners (Villa Diamante and Nim). He continues evolving bringing new sounds of digital cumbia, electro-reggaeton, Andean folklorico and other sound mutations to the decks. Plus he peppers his sets with live percussion too!
Free Midnight Toast!
RSVP on Do512.com for a chance to win free entry or a shot to get a discount on the already cheap cover.
When: New Years Eve. DECEMBER 31ST, 2011
Where: Volstead Lounge. 1500 E. 6th.
Who: Peligrosa with EL G (ZZK Records)
KEEP IT LOCAL, COMPLETE CLOTHING, ULOVEI, HEELS & CANDY AND BEAUTY BAR PRESENT: A FAMILY AFFAIR
With All My Friends (LCD Soundsystem cover band) + DJ sets from Kid Slyce and uLovei throughout the night!
Hosted by BOBBY STRAWBERRY
RSVP @ Do512 for $5 entry!!
Photobooth by Heels & Candy Champagne Toast at Midnight
Support from the family: Fast Folks, No Comply, Madgods, and Pure Filth Drink specials all night from Sailor Jerry
GRUPO FANTASMA NEW YEARS EVE AT THE NEW BEAUTY BALLROOM
!!MOVED TO CLUB DEVILLE!!
Rounding out the evening will be Maneja Beto and DJ Chorizo Funk.
Advance tickets are only $22.50
NEW YEARS EVE WITH THE BLACK ANGELS
With Wooden Shjips and UME
Emo's East
NEW YEAR'S EVE PARTY AT LONGBRANCH INN
NO COVER
GOOD MUSIC BABES DJING (STAR LEE + ASHTON + TIFFANY)
BEAUTIFUL PEOPLE DRESSED TO THE NINES
CHAMPAGNE & KISSES AT MIDNIGHT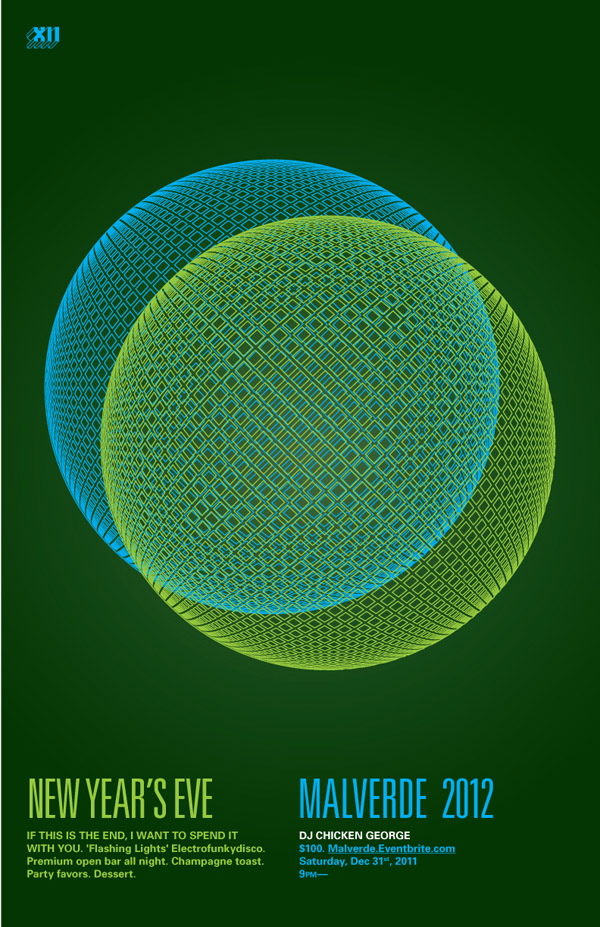 MALVERDE CELEBRATES NEW YEAR'S EVE
RING IN THE NEW YEAR WITH MALVERDE, 'FLASHING LIGHTS': ELECTROFUNKYDISCO AND DJ CHICKEN GEORGE
WHAT: Say farewell to 2011 and ring in the new year with a New Year's Eve 2012 Celebration at Malverde. The end of the year dance party will feature premium open bar all night, a champagne toast at midnight, party-favors, desserts and a photobooth by Trevor Ray Thompson. 'Flashing Lights': ElectroFunkyDisco and DJ Chicken George will be spinning all night.
WHERE: Malverde 400 W. 2nd Street
WHEN:Saturday, December 31, 2011 January 1, 2012 9:00 PM 2:00 AM
THE BIG BANG!! N.Y.E. at Swan Dive & Barbarella!
2 Parties for $10! Go in and out between the two venues through the back gate!
Glitoris resurrects old sweaty Barbarella for a Masquerade at Swan Dive (615 Red River) DJ set by theGlitoris.com [TuezGayz ATX/ThurzGayz SA] ++Dress to Transgress
Barbarella Bash via Barbz (611 Red River) DJ Harvey inside [New Noise] & Sebastian Nebula [upstairs loft party] ++ Little bit of music from Grits & Gravy, Foot Loose, & 2011's best New Noise!! Dress to the 9s! Toast at MIDNIGHT, 21+ only, 2 Parties for $10 cover. Tix at the door no advance tickets.
Sponsored by: ATXHipsters [Sleeping w/Strangers Blog] http://on.fb.me/tnLxnb