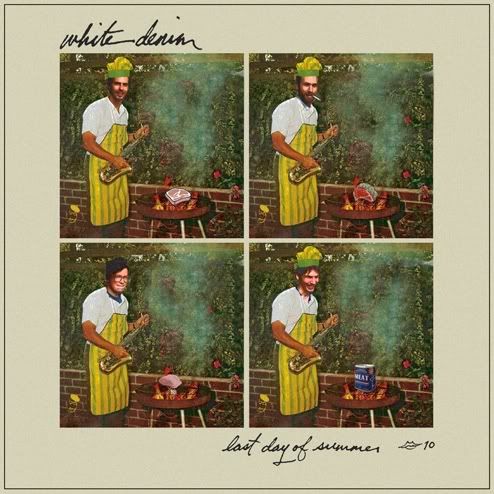 Today, White Denim decided to release a new collection of songs entitled,
Last Day of Summer
. It's a win-win because we get new White Denim and it's FREE.
Taken from White Denim's official website:

"...we are pleased to share a handful of them with you right now. this record is something we made as a little summer retreat from our ongoing work on the third full length. many of these tunes have been bouncing around since the formation of the band back in 06. we were super pumped to utilize a few fresh and casual musical approaches on this record. we hope that you find something that satisfies you within this body of work. if you enjoy the music and feel compelled to support the group, please notice the support button beneath the download link and the image. we are going to be heading out on the roads this october and would greatly appreciate anything that you would feel comfortable contributing.
i would also like to add that we are still hard at work on the as yet untitled third lp. we expect to be wrapping that record at the end of the month."
Also, the band is now a four-piece with the inclusion of new member, Austin Jenkins. If you'd like to contribute anything to the band for being so awesome, do so
here
. (
via GvsB
)