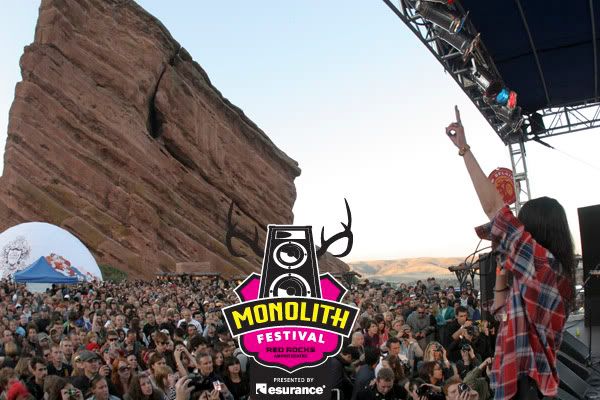 This will be our first year heading up to Colorado for the Monolith Festival. If you notice we've already written a few of "our Spotlights" (
MF Doom
,
Thunderheist
) featuring a few of the artists, with more to come. This year's festival takes place on the weekend of Sept. 12th and 13th at beautiful
Red Rocks
.
Tickets
are extremely reasonable, purchase the one day pass for $59.50 or the entire weekend for only $110. Or you could roll VIP and
purchase their gold pass
for $225. Your call.
Keep up with everything Monolith Festival via their Twitter, Facebook, and official site. Now onto the schedule.
Saturday, Sept. 12th:
ESURANCE MUSIC STAGE
9:30 PM - Yeah Yeah Yeahs
7:45 PM - Girl Talk
6:15 PM - M. Ward
4:45 PM - OK Go
3:30 PM - Frightened Rabbit
2:30 PM - Thao w/ The Get Down Stay Down
1:30 PM - Gregory Alan Isakov
12:30 PM - The Depreciation Guild
SOUTHERN COMFORT STAGE
8:45 PM - Of Montreal
7:00 PM - Doom
5:30 PM - The Walkmen
4:00 PM - The Pains of Being Pure at Heart
3:00 PM - Edward Sharpe & The Magnetic Zeros
2:00 PM - Speakeasy Tiger
1:00 PM - Autovaughn
ROCK ROOM STAGE (Indoor Stage)
7:40 PM - Hollywood Holt + Million $ Mano
6:20 PM - Thunderheist
5:00 PM - Starfucker
3:40 PM - Woodhands
2:20 PM - Lydia
1:00 PM - Stars of Track and Field
WOXY.COM STAGE (Indoor Stage)
7:00 PM - Cotton Jones
5:40 PM - Cymbals Eat Guitars
4:20 PM - The Answering Machine
3:00 PM - These United States
1:40 PM - The Antlers
12:20 PM - Generationals
MADELOUD.COM STAGE
7:15 PM - Boulder Acoustic Society
5:45 PM - Caitlin Rose
4:15 PM - Wendy Darling
3:00 PM - Danielle Ate The Sandwich
2:00 PM - Avi Buffalo
1:00 PM - Roadside Graves
DJS (ESURANCE MUSIC STAGE)
9:00 PM - Cysko Rokwell
7:15 PM - Boyhollow
5:45 PM - Klaw
4:15 PM - Mentat
3:00 PM - Scotty Metalic
2:00 PM - Satan's Eighties Lovechild
1:00 PM - Option 4
UNDERGROUND (WOXY.COM + ROCK ROOM STAGES)
9:10 PM - Self Inflicted With Sammie T
8:30 PM - Digital Disko
Sunday, Sept. 13th
:
ESURANCE MUSIC STAGE
9:30 PM - The Mars Volta
7:45 PM - MSTRKRFT
6:15 PM - Method Man & Redman
4:45 PM - The Glitch Mob
3:30 PM - The Dandy Warhols
2:30 PM - Rahzel
1:30 PM - The Features
12:30 PM - Spindrift
SOUTHERN COMFORT STAGE
8:45 PM - Chromeo
7:00 PM - Phoenix
5:30 PM - Passion Pit
4:00 PM - The Thermals
3:00 PM - Monotonix
2:00 PM - The Grates
1:00 PM - The Knew
ROCK ROOM STAGE (Indoor Stage)
7:40 PM - Savoy
6:20 PM - Tigercity
5:00 PM - Health
3:40 PM - The Love Language
2:20 PM - The Pirate Signal
1:00 PM - Royal Bangs
WOXY.COM STAGE (Indoor Stage)
7:00 PM - Deer Tick
5:40 PM - The Twilight Sad
4:20 PM - Bad Veins
3:00 PM - Neon Indian
1:40 PM - We Were Promised Jetpacks
12:20 PM - A Shoreline Dream
MADELOUD.COM STAGE
7:15 PM - Rachel Goodrich
5:45 PM - French Horn Rebellion
4:15 PM- Red Wire Black Wire
3:00 PM - Beats Antique
2:00 PM - Anni Rossi
1:00 PM - Jim Mcturnan & The Kids That Killed The Man
DJS (ESURANCE MUSIC STAGE)
7:45 PM - Boyhollow
5:45 PM - Vajra
4:15 PM - MU$A
3:00 PM - Tyler "DANGER" Jacobson
2:00 PM - Neo Vizion
1:00 PM - Mike Deez
UNDERGROUND (WOXY.COM + ROCK ROOM STAGES)
9:00 PM - DJ Devo
8:20 PM - SEVEN7H WAVE
(Photo Cred: Poolparty.com, Cherry Blossom Girl)